Welcome to Back to Sash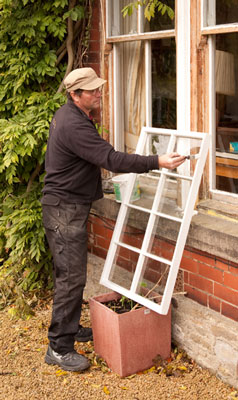 Back to Sash is a small business committed to the preservation, repair and renovation of Box Sash Windows. Based in the beautiful Hope Valley of the Derbyshire Peak District and close to the citiy of Sheffield. We are ideally located to offer our services in these areas where the Sash window was commonly installed during the 18th century and later.
Sliding sash windows have been in use for over 300 years and many windows are still in good condition but in need of some care and attention. These period windows are part of the historic appearance of a building and their replacement by modern windows can adversely affect the aesthetic appearance of the property. Mark can repair, restore and draught proof sash windows.
Some owners may feel that window replacement economical and effective solution. However, sash windows were designed to be easily dismantled and repaired. Mark Bartley specialises in this work.
The most common problems with sash windows are listed below:
They are often difficult to open or close or even do not open at all. Sometimes they have been sealed, either inadvertently by overpainting or deliberately to reduce draughts.
The cords may be broken, the pulleys can be badly corroded and the catches may not work correctly.
The windows may rattle and be draughty.
There can be some rot at the joints, on the sills or the frame and the putty could have dried and failed.
The paint is flaking and cracking.
All of these can be effectively remedied by Mark. Examples of projects he has undertaken are shown on this site.